You can go for a ride in this car!
Details below.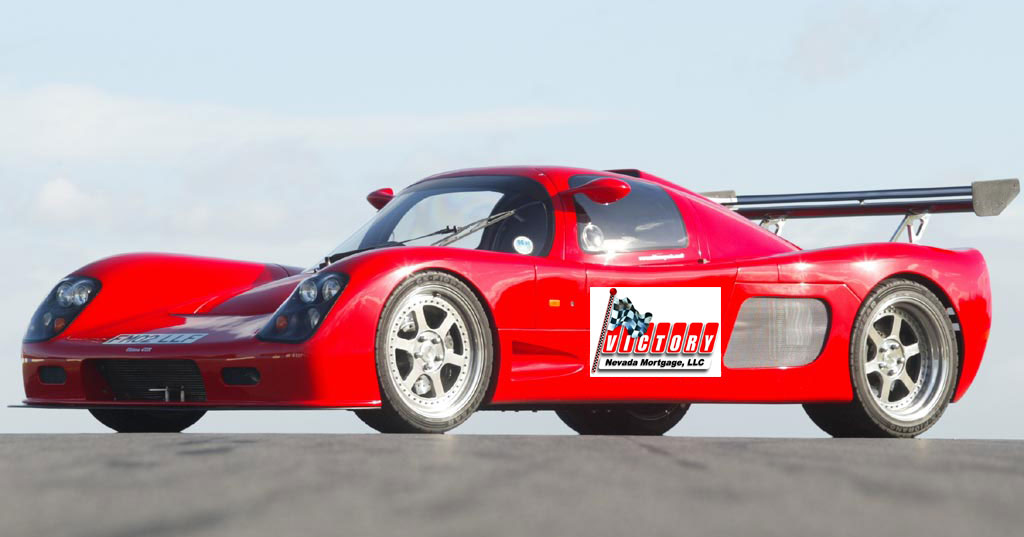 Victory Nevada Mortgage is pleased to sponsor the incredible Ultima GTR, "Fast Forward", and Fast Forward Racing. Through this unique relationship, we can offer a truly unique and exciting opportunity to experience the thrill of high-performance driving at a real race course, in a real racecar, with a professional driver.
How can I get a ride? Simple! Just contact Victory Nevada Mortgage and we will schedule you into the next track day event. Rides aren't free, but very low cost. You will also get an evaluation of your credit, as it relates to mortgages, and a DVD of your ride-along experience! This unconditional offer is available to all...
What? I get a ride at a race course in a real racecar, a DVD, and a mortgage credit evaluation, too!?! Yes!!! Just give us a call and we'll get it going. Call today! Ride-along spots are limited and filling fast!
Here's what we do…
For those upgrading and first-time buyers, we will examine your entire financial position and give you a no-nonsense, no-obligation, written evaluation of your credit picture…from a lender's perspective. This evaluation will show what lenders are looking for and approximately what amount they might be willing to lend. Short- and long-term strategies are offered to help you take the next steps towards home ownership.
For home owners interested in refinancing, we take the same steps as above, plus we evaluate your existing mortgage(s) terms and conditions, as well as the property you plan to refinance. With the complete picture, we can formulate a strong strategy to help you achieve your financial and home-ownership goals.
What about investment property? For those interested in buying investment property, or renting out their existing home, we do all of the above, and provide insight into the financing differences between a rental property and a primary residence; how lenders evaluate rental income and expenses.
What else? First-time buyers, refinance, upgrade buyers, investment and rental property, second homes, land and construction, temp-to-permanent financing, reverse mortgages, and small commercial loans… Victory Nevada Mortgage LLC is Your Mortgage Champion for Life.